On behalf of the 80+ professional staff at Pegasus, we thank you for your interest and support of our home health care services. For more than 20 years, we have been committed to providing the finest in-home skilled medical care and personal care to thousands of patient referrals in the Los Angeles area. We are honored to work with some of the most highly regarded physicians in the region who know they can depend on and trust Pegasus to care for their patients.
Pegasus is entirely about caring for patients with respect and dignity while employing the highest medical standards.
What you can expect when referring a patient to Pegasus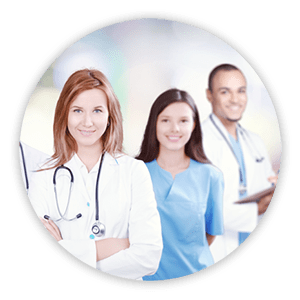 Efficient and easy coordination of all referrals, typically patients are seen within 24 hours
Professional and courteous cooperation between our staff and yours to implement the care of your patient
24/7 monitoring of vital signs via telehealth for patients requiring greater oversight
No unnecessary paperwork or communication from our staff
Timely response to changes in orders
Complete dedication and professionalism from our staff of medical professionals and caregivers
Option to review and electronically sign all home health documentation online, clean and green!
To refer your patient, click here to download the referral form or contact us, 24/7 at 818-572-9629.
We invite you to review our Testimonials sections. For a look at what "The Doctors Have To Say" click here.
For a look at what our Patients and Families we care for have to say, click here.
From all of us at Pegasus, we look forward to working with you and your team for the benefit of your patients.
Our Credentials
Pegasus is both a California State licensed and Medicare certified home health agency.
Pegasus has been rated in the top 25% of Home Health Care agencies in the United States and was awarded the prestigious Home Care Elite status from OCS, an independent benchmarking company.
Pegasus is a CAHSAH (California Association for Health Services at Home) certified home care agency
All Pegasus staff undergoes extensive pre-screening prior to hire, including background checks, reference checks from previous employers and professional colleagues as well as a pre-employment health screening evaluation. Each of our staff members is fully insured and bonded.
---
Pegasus was awarded the coveted Gold Seal of Approval for Accreditation by the Joint Commission in recognition of our dedication to providing the highest level of care and continuous compliance with The Joint Commission's state of the art standards.